About
AL-HAZEM CONTRACTING
AL-HAZEM contracting is a good example of merging individual and companies experience, after long cooperation, where optimization of synergy and know-how are the foundations of AL-HAZEM contracting project and future growth.
The highly competitive market along with the increasing demand for qualitative products and time schedule are the main challenges that have lead to the formation of AL-HAZEM contracting since our associates common belief is that know-how and experience under a professional and international qualified Management structure have no other alternative then to meet and satisfy any market and Customer expectations.
Increasingly customers are looking for suppliers with "one stop solution" capability; also the post-delivery operation and maintenance support requirement are wider in scope.
AL-HAZEM contracting experiences have been built on several years and different types of projects, such as:
• Cement Plant Factories , Wastewater treatment plant with Sludge Digestion Facilities , Steel plant Factories, Power plants , Petrochemical plants , Gas metering Stations industrial plants , Utilities , Painting works , Housing , Electrical and Instrumentations works, architectural works, ….. etc.
In AL-HAZEM contracting Small jobs have the same attention and care as large orders.
Let us challenge your utmost expectations, you will never regret it!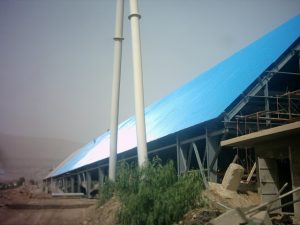 Quality Policy
It is the policy of AL-HAZEM contracting to consistently provide products and services of highest possible standards, conforming to contractual job specifications.
We are committed to
1- Ensure that the quality objectives are achieved
2- Provide products and services, which meet as well as exceed our customers 'needs and expectations
3- Deliver on time
To meet our above commitment. We shall ensure
1- The quality policy is well communicated and clearly understood by each and every Employee.
2- A team approach by the active involvement of all employees and customers.
3- Non conformities in products or service are identified, investigated, analyzed and resolved.
4- All safety requirements are followed
Our Mission
Our mission is to handle all Steel works, Electromechanical works, Civil works, and Architectural works related to large scale projects performing value engineering with the highest quality.

Our Vision
To be one of the best companies in the field of fabrication and erection of steel structures and piping.

Our Objectives
Doing everything right the first time, every time, and on time, with best quality according to the agreed specifications with fair competitive price to meet client satisfaction.